I have written about famous autistics that have excelled at science and turned their knowledge into working machines. This time for April Autism Month I want to turn my attention to artistic autistics and take a look at how their neurological conditions affected their abilities to paint works of art. Some of them have created their own styles and craft that are not like the conventional arts of their time. I don't understand art that much myself but I can at least interpret the way in which these neurodivergent artists differ from mainstream art and made exceptional pieces for themselves.
But first I want to explore the useful application of art to autism and how it can be useful autistics. I have been reading psychological studies in how art benefits the wellbeing of autistics and it is a very good therapy to enhance and allow autistics to communicate themselves. One study made by the American Art Therapy Association said "Art therapy is a mental health profession that uses the creative process of art-making to improve and enhance the physical, mental, and emotional well-being of individuals of all ages. It is based on the belief that the creative process involved in artistic self-expression helps people to resolve conflicts and problems, develop interpersonal skills, manage behaviour, reduce stress, increase self-esteem, and self-awareness, and achieve insight."
Interesting insights there and it does show true in how art has benefited me. I have used the means of creative writing to express myself and communicate in ways that I have struggled to do when I had a limited vocabulary and difficulty with connecting with people. I may prefer the written word and printed books more often than paintings and sculpture but I appreciate the beauty and visual expression of art as it helps to communicate emotions and read facial expressions and body language. Neurodiversity is also expressed in art by the genius of people like Vincent Van Gogh and JMW Turner.
Vincent Van Gogh
Vincent Van Gogh was a tortured and mentally wounded soul that lived for the best parts of his life in institutions. History tells us that he had several nervous breakdowns and cut off one of his own ears. That is depicted in the caricatures that can be seen in cartoons. But what about his mental state of mind expressed in his art? One of my most favourite of his paintings is The Starry Night, which depicts a view of the asylum in Saint Remy-de-Provence. It shows shades of dark and bright blues against a background of stars and the Moon. To me this looks like the bright lights as a saviour shining through to light a dark night to guide me to a path of hope and glory. The wispy blue curls resemble waves in the sky to carry me on through the night and that the world is turning around me. It's Van Gogh's mental state of mind that enhanced his creative powers and he channelled them so beautifully into his work. It's this quality that makes his work so remarkable and therapeutic.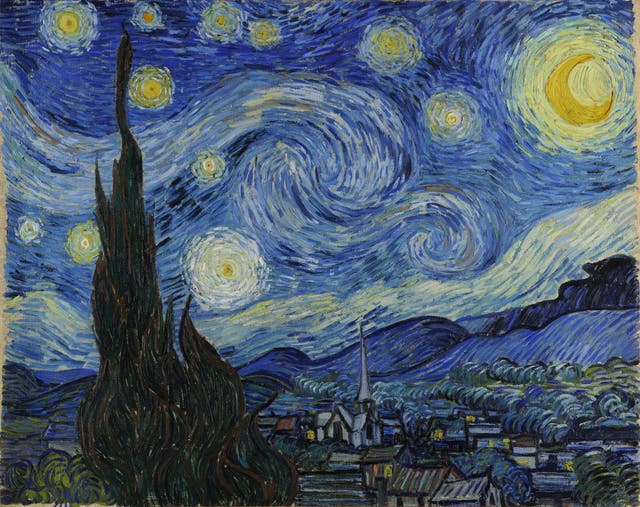 On the subject of mental health in autism it is a better therapy to use art and music than relying on a medical based treatment like applied behavioural analysis (ABA). I've read stories from autistics that have had ABA that causes them to become suicidal and depressive later in life and having had it so young, it robbed them of their ability to make the use of their talents. You shouldn't be trying to fix people like that by trying to eliminate them with social eugenics tactics. Art therapy makes for a much better treatment for mental disorders and neurological conditions because you can examine a person's psychological and emotional undertones in their artwork.
JMW Turner
JMW Turner is a face that British people will see in their wallets everyday if they have a £20 note on them alongside his most famous painting, The Fighting Temeraire. Turner is an English artist who showed off his talent for painting as a child protégé. He enrolled at the Royal Academy of Art at 14 and kept a limited social life avoiding the fame he earned from his work. What made Turner famous as a painter was the style he made from using watercolours to create a vivid and lively landscape portraits. His paintings were full of violent marine scenes depicting many of Britain's seafaring adventures. They are exploding with light in every corner in a style composed of washes of paint that resembles a puzzle of nature that evoke the moods of nature. Here the sun is setting as human nature takes a turn with a wooden battleship being taken for breaking up by an iron steamship that reflects the evolution of naval power.
I quite like The Fighting Temerarie myself and I intend to get it as a print to go on my wall. If I can highlight the artistic integrity of autism then I can achieve it by showcasing the visual imagination in these works by Turner and Van Gogh. Turner autistic traits included living a simple modest life with no accumulation of property and estate that would be expected of a millionaire. Even though he made a fortune from his work he did not keep himself active in social circles and lived a reclusive life on the Thames. Turner was very engaged in his work that he carried voluminous sketchbooks with him wherever he went on his travels. I think autistics who are excellent artists have dramatic displays of tone and imagination in their works so far.
Pablo Picasso
Spanish artist Pablo Picasso was another eccentric artist on the spectrum. He was one of the pioneers in the art world for cubism, invented constructed sculpture, and collage. When he began painting he initially followed the academic standards of art and then rejected it in favour of experimenting with more radical forms. Picasso found his taste in art in the cubist movement, an abstract form of art that consists of cubic shapes interwoven with human emotion depicting the subject from multiple viewpoints. Autistics are known for being abstract in their cognitive abilities and I think through cubism Picasso showed his talents as an artist better than others. His autism shines through cubism in the colours and shapes that he uses. It also happens to be one of my favourite art forms because it relates to the colourful and emotive abstract nature of building blocks like Lego. In fact cubism also inspired the modern minimalist architecture that we see today that is a comfortable form of living that autistics prefer to live in because they find complex and sharply contrasted colours to be distressful to their senses.
Although Picasso's most famous painting is Guernica painted in 1937, my most favourite of his works is Girl Before a Mirror painted in 1932. It features a woman who is Picasso's mistress Marie-Therese Walter looking into a mirror where the reflection is not the same as hers, but is that of a darker version of herself. From a visual analysis point of view it shows how the world sees us and how we see ourselves in life. The point of that being that we are prone to judgement to everyone around us and that we should not be wasting our lives expecting to meet other people's standards. We should live our own lives as we deem ourselves to be worthy of life. It's an art piece about self-reflection and self-worth, which makes it very valuable. The next time you look at Girl Before a Mirror I suggest you think about your own self-reflection and think about how you are worthy of life and should project that onto the world instead of how they judge you by your image.